Apple Search Ads
For months we haven't posted any blog update on www.asoapp.net, simply because of an excess workload combined with the summer vacations of the members of this project. Exactly… such an easy and lame excuse! So in early September as we were returning from time off, we were a little embarrassed to post. Therefore we thought we should do it on an important date of the Apps Market.
October 5, 2016 proved to be that day. In the last article posted on the blog we talked about our trial of the paid advertising for Apps on Google or the Universal Campaigns for Apps from Google Adwords. Then, on October 5th, Apple launched its own platform to display sponsored advertising within the App Store.
From Apple webiste:
"Promoting Apps with Search Ads
Search Ads is an efficient and easy way to promote your app on the App Store for iPhone and iPad in the U.S., helping customers discover it at the very moment they are searching for apps to download. Designed to give users a safe search experience, Search Ads sets a new standard for delivering relevant ads while respecting user privacy.
Ads go live on the App Store on October 5."
Developers can now buy spaces to highlight their apps in App Store searches. According to Apple, the search tool is used to generate 65% of application downloads for both free and paid applications. So we are facing a new turn when acquiring new users.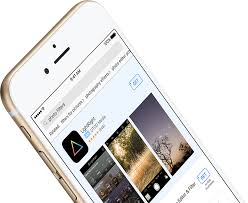 Click hereto watch a video from Apple explaining this new resource.
Also, Apple is currently offering a coupon promotion for developers, in this case $100, similar to what Google does with Adwords. The promotion allows for one sponsored search to be highlighted with a blue background. This model is very similar to what Google does when displaying search results in the web application, and ads will appear in the iOS App Store, AppleTV, and Mac OSX.
Mobile App Development: ways of facing it
Nowadays there are three types of Apps: WebApps, Natives and Hybrids. The most common and generally used are Native Apps. Still, one question that many of you interested in the apps world ask us every day is: Is it necessary to know how to program in order to create a native or simple app? In regards to App ASO, we'd like to be frank and explain that, no; programming knowledge is not necessary for today's web world. There are many alternatives such as:
phonegap.com: This is a platform that allows us to program apps from scratch using web code, or we can buy app templates from ThereForest and then make any desired changes or modifications to the coding. These apps are then compiled to be read by operating systems such as Android or IOS, and so can be considered Native Apps.
seattleclouds.com: This is a platform that can create apps without introducing a single line of code, and is known as an app builder. There are many different app builders, and they are analogous to website builders such as WordPress. Similar to the previously mentioned platform, apps can be created and compiled to be read natively.
What we've mentioned above is simply to a start to a series of articles in which we will talk about the various ways to create apps. The possibilities, which we will explain, are endless. Additionally, we will answer the frequent question of how to turn a webpage or ecommerce site into an app.