How to retain and retain the users of your apps
In today's infinite world of mobile applications, even if you think you have a winning app because it has already crossed the initial visibility barrier and has started generating downloads, you should know that your work is just beginning and you should prepare yourself, because the bubble can burst pretty quickly.
In today's infinite world of mobile applications, even if you think you have a winning app because it has already crossed the initial visibility barrier and has started generating downloads, you should know that your work is just beginning and you should prepare yourself, because the bubble can burst pretty quickly.
Most mobile app development experts agree that in the app world, retention is the single most important measure today to assess how valuable an app is to users.
Retention is nothing more than a measure that allows you to see how many users who have downloaded an application and used it once, return as recurring users. It can be interpreted as a commitment that users feel towards the applications that they like.
Retention is very important because it allows you to see what is and is not working in a mobile application; vital information to know which parts of the application should be optimized, so that we can improve conversions, profits and user engagement.
In short, it is useless to invest hundreds or thousands of dollars to attract thousands of users to your apps if you cannot retain them and give them a compelling reason to use the apps again.
One of the best ways to learn how to improve retention in our apps is to see what effective tactics some of the world's largest companies have been using to improve user engagement with their mobile apps.
These companies have spent thousands of dollars on research, development, and testing to see which strategy works best for their brand.
The purpose of this is that we can open our minds, get inspired and write down some ideas that we can implement in our own apps.
Without further ado, let's get started.
Lyft
The popular application that helps people to find transport, has a very interesting concept of simplicity.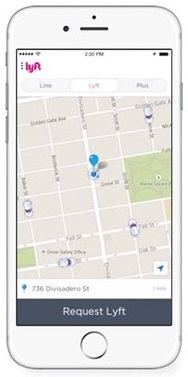 When opening the application, we will find a map that shows our exact location and the number of drivers around our area, so it is easy to see the possibilities we have to find transport. Finally, to order transport, all we need to do is touch the big CTA (call to action) at the bottom of the screen, which is very visible (see the previous image).
This app holds on to its users with its minimalist approach and very simple processes.
What can we learn from this strategy to apply to our own apps? that we should show users ONLY what they need. Would you stay in an application that tries to show you 100 more things than you need? Probably not. You want to get where you want to go, and quickly.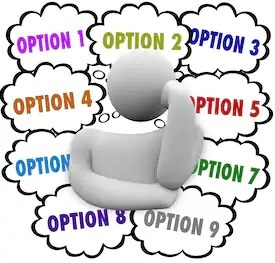 A key point in effectively acquiring new users is introducing them to exactly what they need to know, and not overwhelming them with too much information.
It is quite common to assume that a customer will enter as much information on the mobile device as on the desktop, but entering data on mobile devices is much more time consuming, and it is important to design with this in mind.
Lyft is available on Google Play and the App Store.
NYTimes
No industry has had to adapt more to the advent of mobile devices than publishers. It was once an elite business that attracted millions of readers and customers, but our digital world has turned them upside down.
Still seen as the leading source of news in the United States, The New York Times found a way to stay profitable amid the failure of many of its contenders.
Their digital subscription plans are perfect for users of mobile devices, and they promote through Facebook Ads and email the incentive to download their application to enjoy a better experience and premium content.
Once in the app, articles are easily displayed and even more easily consumed than on the website. They even allow the user to adapt Push notifications according to their interests: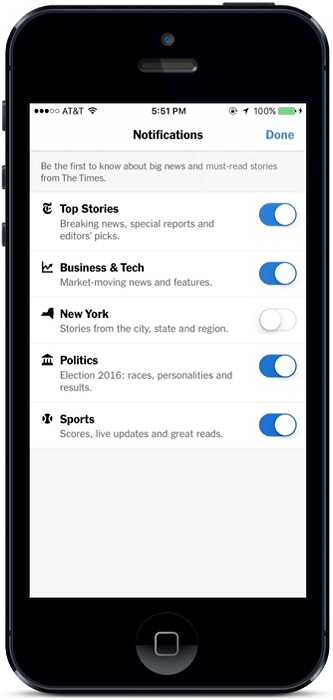 The strategy NYTimes uses is basically to offer unique content to its premium users. However, we can give this a little twist and adapt it to the requirements of our apps.
For example,
Let's say you show your new users some interesting content at the login process, something they've never seen before. This will give them a lot of incentive and they will keep an eye on your application, since the content you have given them has been very valuable to them, causing them to be eager to register and use your application to discover more interesting things within it.
Before you know it, you will have new active and recurring users in your user base, and it will continue to grow every day.
This strategy is used and has worked very well in other industries, such as Digital Marketing, and it is basically about offering value to users before asking for something in return.
NYTimes is available on Google Play and the App Store.
Pinterest
Like most social networks, Pinterest encourages engagement or retention through social connection. They encourage users to find other friends on Pinterest to satisfy the desire for collaboration.
Half of all searches on Google are from mobile devices, so ensuring users have a seamless experience from Google search results to their intended destination is key to driving engagement and gaining user engagement.
As can be seen in the following image, Pinterest tries to convince users who have entered its platform from mobile devices that the experience offered by its mobile application is superior, and invites them to download the application.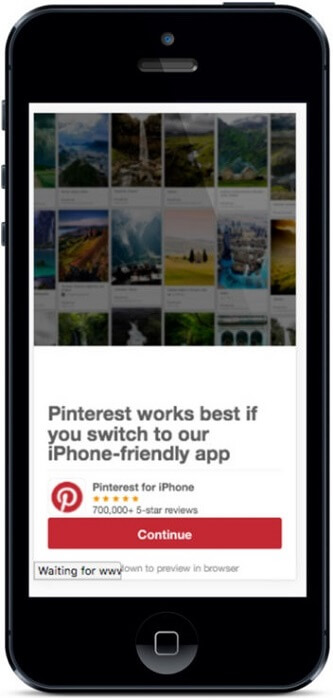 It is a simple banner that is activated when a user browses the Pinterest website from a mobile device, and works as a reminder for your users to make the most of your platform using the mobile application.
This strategy is very effective and fast to implement, if the application has a web page, which is highly recommended.
Pinterest is available on Google Play and the App Store.
Tinder
Tinder starts working on user engagement from the get-go.
The popular dating app allows users to sign up easily and with just a few clicks. And once users have registered in the application, they will be shown very simple and didactic instructions on how to use it, leaving the impression of being a very easy to use, entertaining and fun app. In the image on the left side we can see a sample of it: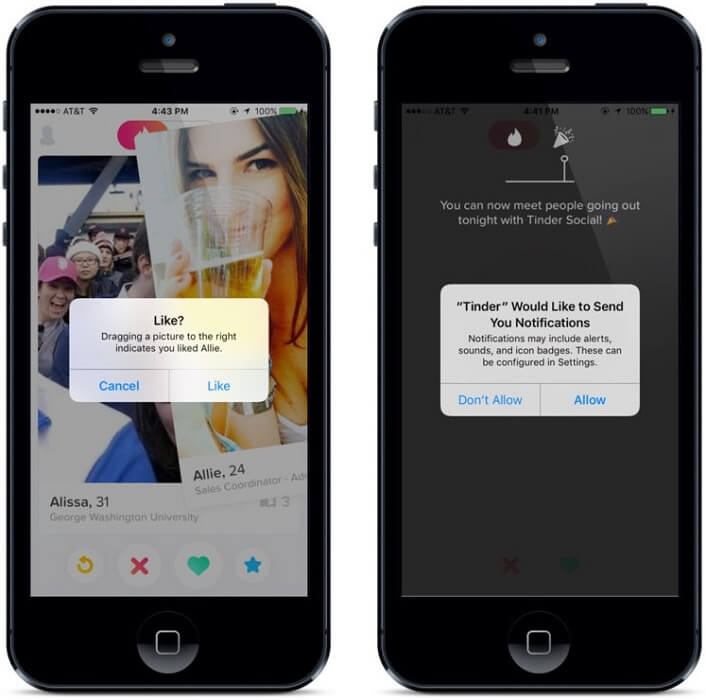 Tinder also emphasizes the importance of receiving Push notifications (right side image), getting its users to activate and engage with these notifications.
Tinder is available on Google Play and the App Store.
Expedia
Booking a trip is tedious, stressful, and often frustrating.
This is why the Expedia mobile app is a very important part of driving user and customer retention and engagement.
One of the attractions that Expedia offers to its users is to receive double the reward points if purchases are made within the mobile application.
As can be seen in the upper left part of the following image, the mobile version of the Expedia website has a banner that promotes a faster payment option ("Faster Checkout!"), Leading users to know the advantages of make use of the mobile application.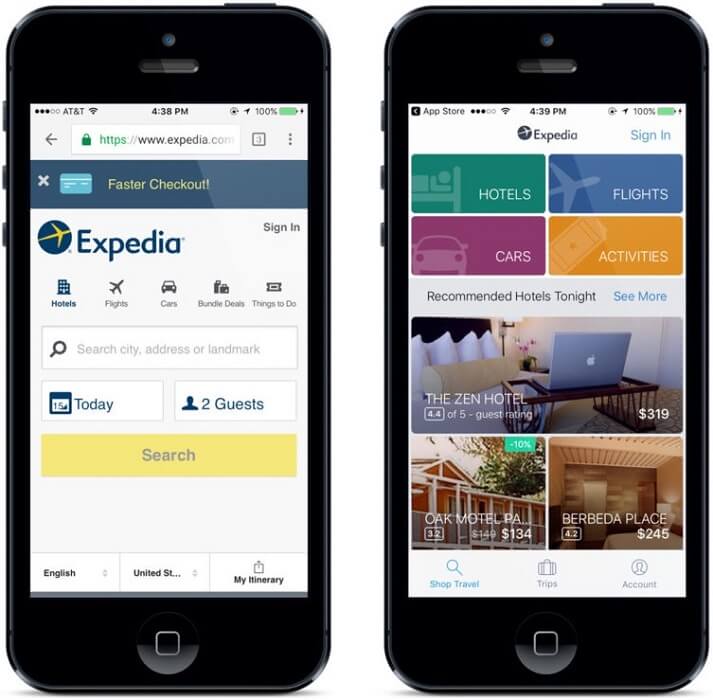 Expedia is available on Google Play and theApp Store.
Jet
When this Shopping Club took the leap to create their own mobile app, they could see that installation and usage rates increased by 300%.
With the mobile application and the integration of payment methods like Apple Pay, you can now enjoy a seamless purchase process. In addition, the advantage that the user can be previously logged into the application has served as an incentive for the user to make more purchases easily.
On the other hand, the In-App notifications that first-time users receive encourage them to become a loyal customer through incentives and urgency, assigning a deadline for discounts, as can be seen in the following image: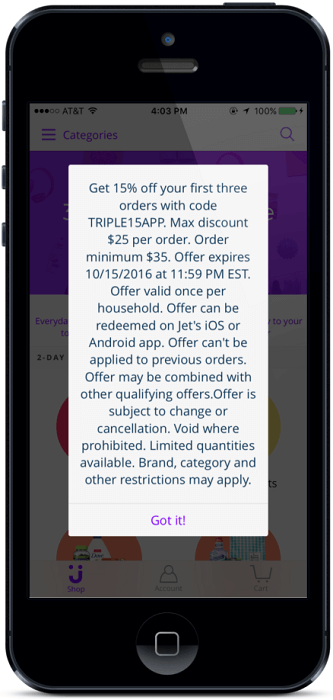 Jet is available on Google Play and the App Store.
FINAL RECOMMENDATIONS
We have seen some of the strategies that large companies use to gain retention and engagement from their mobile users. Our mission is to analyze how we can adapt them to our own apps to start seeing positive results.
However, there are other ways to win the "love" of users. And this, without a doubt, is the main one and should be applied by ALL applications, without exception:
"Be there" every time your users need you
Perhaps the only advantage that you can have over 100 other applications similar to your app is the level of commitment you have with your users. Do you communicate with them? Do you understand their problems? Do you answer their questions?
Before and after starting your application, your users may face some problems, errors, bugs, among other things; you must resolve them and inform them that they have been resolved. Never avoid sending an email and be aware of your social networks; maybe someone has something to tell you. Help them understand that you are open to discussions and, in this way, your users will stay abreast of the development process and will know that they will receive a valuable application for them.
Mobile retention or engagement is not a new concept, but it is seldom taken seriously when it comes to looking for factors why a mobile app is not delivering the desired results.
Your brand might not be an e-commerce giant like Jet, or a crowd-sourced publisher like the NYTimes. However, even if it is a small application that you just launched in the App Store or Google Play, it is always important to find ways to engage and win the commitment of the users you acquire, since obtaining an installation does not always mean that you have acquired an active and committed user.