A few years ago it was unthinkable that a mobile phone would serve for anything more than making and receiving calls.
By the year 2008 when Apple brought out the iPhone, what caused this device to stand out most among so many innovations, was the functionality that it brought with it. They were no more than Apps that allowed us to customize our device according to our interests, tastes and needs, with endless possibilities.
Mobile apps have become a part of our lives, of our every day. We use them to entertain and organise ourselves and manage our business among other things.
Many companies and professionals are aware of the importance of having a good mobile application that allows them to communicate directly with their customers and which also includes a sales channel.
The key is to understand that Apps are here to stay. Their success has been unprecedented, and no company or professional can afford to ignore them.
Until several years ago, the development of Mobile Apps was practically exclusively for super-intelligent "brains", with the ability to write very complex programming codes.
Fortunately, the landscape has changed a lot and today there are tools which are so easy to use, that practically anyone can create an App and upload it to Google Play or the Apple Store in a matter of hours. And best of all, without programming a single line of code.
These tools are called App Builders.
Due to the popularity that these have gained over the years, there is an infinite number of them in the market and it is easy to get lost among such variety.
We had already talked about what App Builders we should choose according to the type of Apps that we could create with them, and also the three types of Mobile Apps that currently exist; WebApps, Natives and Hybrids. If you want to know what the difference between them is, and also which one should you choose, take a look at the previous link.
On this occasion we have prepared a list of the 5 best App Builders on the market, depending on their quality, ease of use and prices. Those these tools are far from perfect, in general they do a better job than many of the others.
We will summarise the most important features of each one so that it will be easier for you to choose the one which best suits your needs.
Something to note is that all the App Builders mentioned below are based in the cloud. That is, they do not require downloading and installation, and you can use them on any device and anywhere in the world where you have an Internet connection.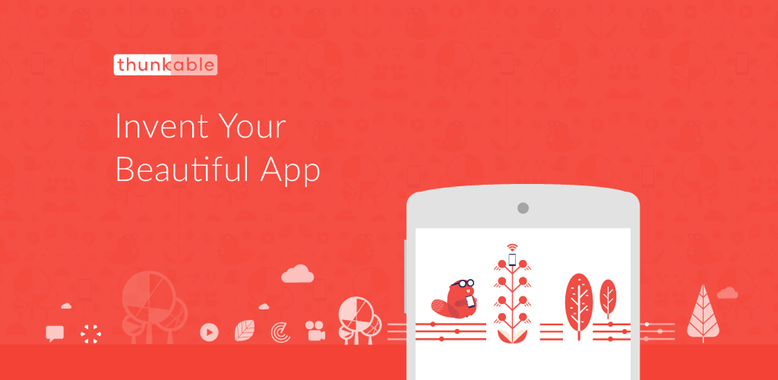 Image: Thunkable
The creators of Thunkable have vast experience in creating teaching systems which can be easily learned and used by anybody, including children.
In fact, it was them who were involved in the creation of Scratch and LEGO Mindstorms. Both are tools, although for different purposes, created for children and adults to be able to learn the logic of programming in an enjoyable way (you can read more about Scratch and LEGO Mindstorms by clicking here.)
If as a child you used to enjoy putting pieces of LEGO together, Thunkable is the ideal tool for you. You can bring your app to life literally as if you were building blocks of LEGO.
With this as a premise, Thunkable has created its innovative language of blocks. This allows you to give the app functionality using the simple logic that "If this happens, do that," and connecting some blocks with others will make your app do exactly what you need it to.

Image: Thunkable
If one block fits another, it is because its functions are compatible, if not, we should look for another block. As if we were putting together pieces of LEGO.
It is precisely this easy way to create applications which has made Thunkable one of the most commonly used App Builders on the market.
Another advantage of Thunkable is that we can generate completely native applications for Android or iOS, instead of hybrid web applications which we create with the majority of App Builders. Therefore, our Apps can work without an internet connection and make use of specific hardware features, such as GPS, NFC, Bluetooth, among others.
In addition, it has a great variety of predesigned templates. If any of them is compatible with your ideas, you can simply edit it and adapt it to what you need. These templates will save you a lot of time and work.
Apps created using Thunkable
| | | |
| --- | --- | --- |
| | | |
| Downloads: 1.000.000+ | Downloads: 500.000+ | Downloads: 5.000+ |
You can find other apps created with Thunkable by clicking here and here.
Prices: Plans range from free for public projects and $100 for private projects. With both plans you can create unlimited apps. With both plans you can create Apps unlimitedly.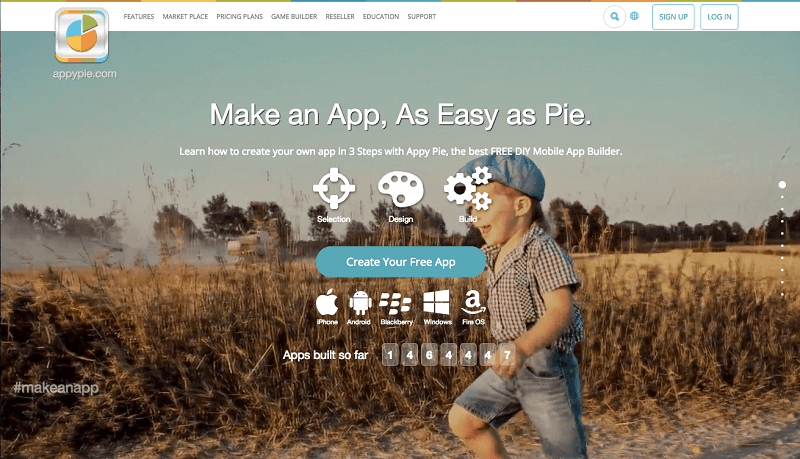 Image: AppyPie.
AppyPie is another of the large App Builders on the market. Its users have created almost 1.5 million applications since its launch in 2014.
Though it doesn't have a block language like Thunkable, you do have a "drag and drop" style editor which does not require programming and is very easy to use. In addition, it allows you to see exactly how your app will appear on mobile phones and tablets in live as you create it. In this way, you can offer a better user experience.
You can create hybrid applications in HTML5 for iOS, Android and PWA (progressive web application).
One of its strong points is the quantity of pre-designed templates and projects which are ready to use.
Image: AppyPie.
To give a few examples, you can create a wide range of games, apps for health advice, taxis, messaging, radio stations, appointments, CMR, augmented reality, restaurants and many more.
Therefore, if you are not planning on creating the next Fortnite, you will definitely find a template that suits your needs perfectly.
You can send push notifications by geographical location and emails to specific users with support for Mailchimp. You can also integrate social media feeds, blogs, websites, audio, radio, GPS location tracking and more.
If you want to create an online store, with AppyPie you can create it from zero or adapt an existing one. It supports a wide range of platforms including Shopify, Amazozn, Ebay and Etsy among others. In addition, you can accept online payments through Paypal and from credit cards.
These are some of the most important characteristics of AppyPie, but you can find out more by clicking here.
Apps created with AppyPie
| | | |
| --- | --- | --- |
| | | |
| Downloads: 1.000.000+ | Downloads: 10.000+ | Downloads: 10.000+ |
You can find other apps created with AppyPie by clicking here.
Prices: Plans start at Free with adverts until $40/month per application.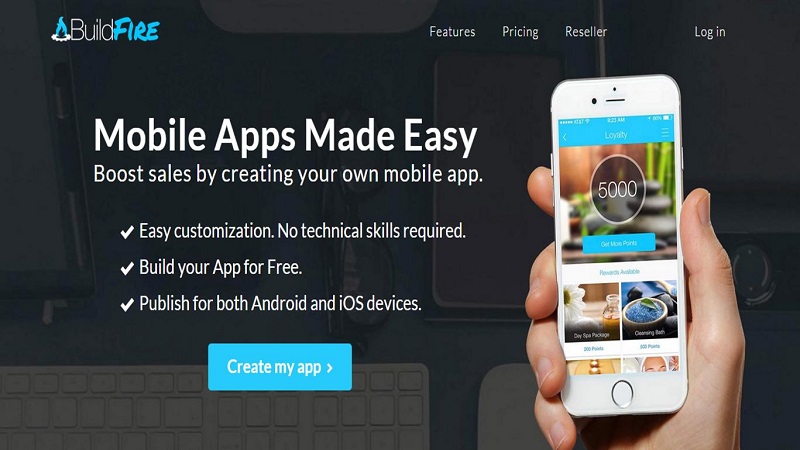 Image: BuildFire.
There must be a reason why more than 30,000 businesses are currently using BuildFire.
Thanks to its "without using coding" approach and its "click and edit" platform, it is possible to create mobile applications in a short time, while also being rich in great characteristics including social network integration, loyalty programs, mobile purchases and e-commerce functionality among others.
When you begin to design your application with BuildFire, you an choose from a wide variety of templates for different markets such as e-commerce, restaurants, real estate and more.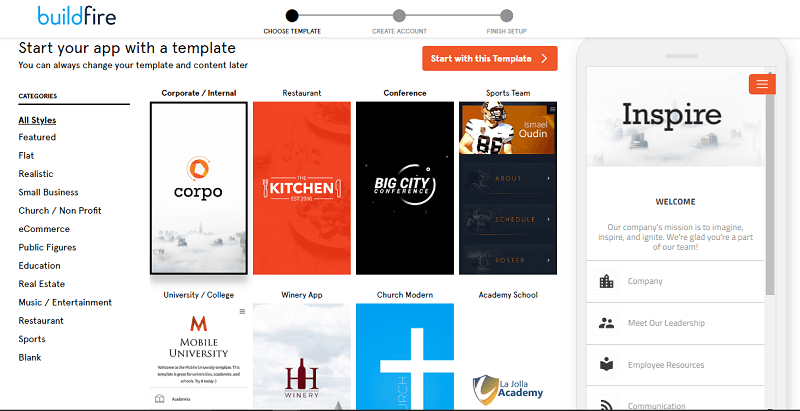 Image: BuildFire.
Some of these templates are quite originaland usually don't appear in other App Builders, such as those for theme parks, stockbrokers and sports teams.
They also support integration of a multitude of programs from shopping baskets to user chats, reservation managers and many others.
BuildFire also offers its own notification system, SMART Push and Selective Push, with a 90% reading rate, ensuring that all campaigns and content are seen by all of your app's users. It also allows you to synchronise your application with your website content, create subscription channels and show live content such as video and audio.
Applications created with BuildFire can be compatible with iOS, Android and PWA.
You can find out more features of Buildfire here.
Apps created with BuildFire
| | | |
| --- | --- | --- |
| | | |
| Downloads: 500+ | Downloads: 100+ | Downloads: 10+ |
You can find other apps made using BuildFire by clicking here.
Prices: The plans start at $59/month per application until $499/month per application.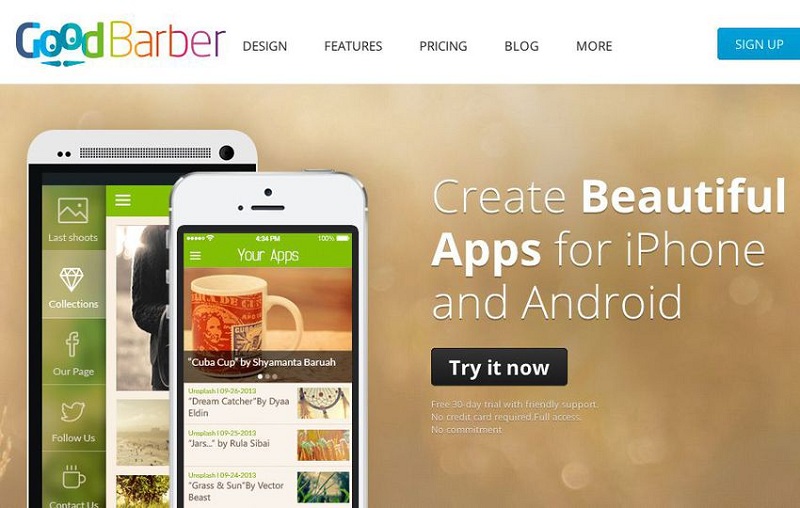 Image: GoodBarber.
GoodBarber is a mobile app creator which puts emphasis on the design above all. It prides itself on enabling its users to create attractive, elegant and good-looking applications.
It is used by a wide range of projects and organizations, from local business, radio stations, newspapers, non-profit organizations and more.
It allows you to create native apps for Ios and Android, as well as progressive web apps (PWA).
In regards its functionality, GoodBarber is one of the most complete on the market. It features more than 300 functions of all kinds (and each time they add more), like social networks, news / article, calendars, photos, audio and video, loyalty rewards, live events, user chats, e-commerce and many more.
And, with its most recent update, it is also possible to convert our own website into a progressive web application, with SEO descriptors and design responsive for all browsers.
It also allows you to send Push notifications and convert app users into collaborators, allowing them to send articles, photos and videos.
Even within this wide range of functionality, the GoodBarber aesthetic is always present.

Image: GoodBarber.
Often you can select different designs for each section. This combined with the choice of more than 50 different templates (each with its own color combination and font style), creates great flexibility within the design of the application, achieving unique creations.
If your application will be managed by a team, GoodBarber gives you the option to add anyone to your project, inviting them through a simple email. You can customize the access of each person so that they only use the areas that you have configured.
Apps created using GoodBarber
| | | |
| --- | --- | --- |
| | | |
| Downloads: 100.000+ | Downloads: 50.000+ | Downloads: 10.000+ |
You can find other apps created with GoodBarber clicking here.
Prices: Plans start at $15/month for a PWA with 100GB of storage, $32/month for an Android app and $96/month for a application for iOS.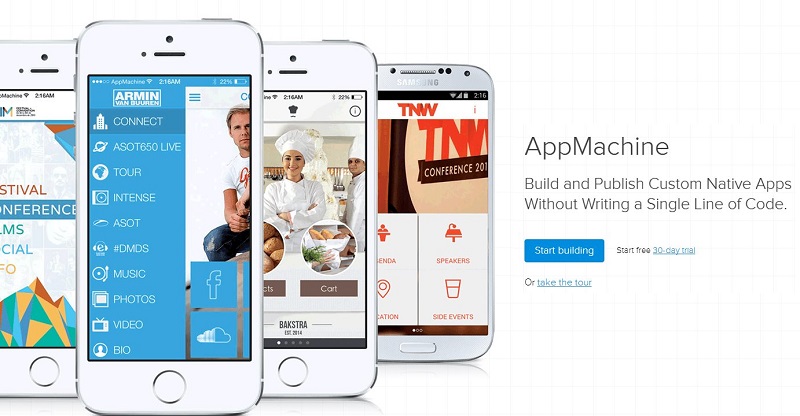 Image: AppMachine.
We finish our list with AppMachine.
This app creator stands out first of all for its positivity and joy. From the construction blocks of its LEGO-style editor, its large variety of bright colours, to the spirit of the company which is constantly creating the desire to be part of the fun.
This really helps those starting out, who have never had any kind of experience creating mobile apps and even less so with the concept of programming. The learning curve of the editor is very short, intuitive and above all, fun.
With its launch in the middle of 2013, it has helped to create more than 200,000 applications. This is due, in part, to its relatively flexible 'Pro' blocks which (by using the 'Excel' and 'Web Service' functions) can allow for many interesting and strong combinations.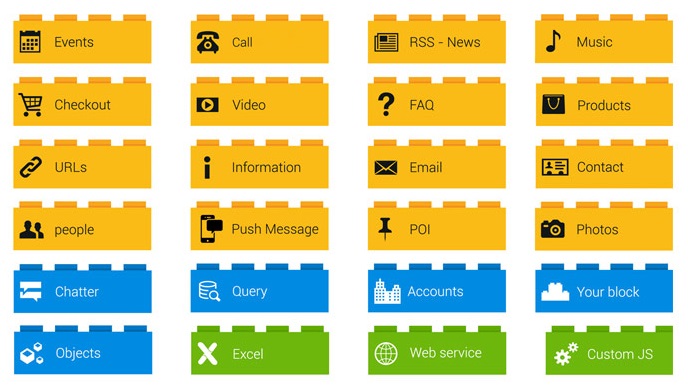 Image: AppMachine.
We are able to create Apps por iOS and Android, but not yet progressive web apps (PWA).
AppMachine also has a series of tutorials and articles which help users to understand how they can combine these blocks to create said functions. For example, how to create a travel application which can indicate the current climate in various places at the same time, or show restaurants that are close to the user.
There is the option of having a block of "products", or "list", that allows you to add products and prices, as well as separate links to obtain more information about the product. Then you could add a "payment" block that links your products with the PayPal integration.
If you have a team to develop your App, AppMachine gives you the option to invite other people to your project and configure various access privileges. There seems to be no limit on the number of members you can include.
AppMachine has no less than 92 ready to use templates. They are extremely flexible and offer some useful tools, like a photo editing platform usingAviarytechnology and a downloadable Photoshop design template to make it easy to load images of the correct dimensions.
It also offers 13 complete application templates which we can explore to give us an idea of the functionality we can include in our application and also see how the different types of blocks work.
AppMachine has done a great job with its app builder and there is really nothing to complain about besides that it still does not offer the ability to create a PWA. It is easy to use, pleasant and looks great.
You can see all of the functions that AppMachine offers if you click here.
Apps created using AppMachine
| | | |
| --- | --- | --- |
| | | |
| Downloads: 1.000+ | Downloads: 1.000+ | Downloads: 100+ |
You can find more apps created with AppMachinehere.
Prices: Plans start at $49/month for Plus version, and $69/month for the Pro version.
Final Comments
Undoubtedly, many professionals and companies have discovered what mobile applications mean to them; expansion and more benefits.
App Builders have broken the barrier that separated these companies and professionals from their own mobile Apps, a privilege that previously only programmers had. It is no longer necessary to have programming knowledge to create a quality App for a business or company, and better than that, we can have fun in the process.
In this article, we have made a brief summary of the App Builders which, in our opinion, are the best on the market. But it is important that, before deciding on one of them, that you make use of the free versions (in those cases that they are available) so that you can have an idea of which tools best fulfil the requirements of the app that you need to develop.
Other App Builders which don't require programming knowledge and can provide you with more options to consider and compare with are: Mobincube, BiznessApps, Appery.io, Fliplet, ShoutEm, MobileRoadie, AppsBuilder, Swiftic, AppMakr, GameSalad, AppsMakerStore y iBuildApps.
Every business or professional has different likes, resources and necessities. We recommend that you try all of the, because in the end the best tool will always be the one that gives us the best satisfaction individually.
Try, design, buy and chose the tool which you think is the best.
If you liked this article, share it on social media!.